2021 - 2022 Main Stage Season
Holiday Concert
December 19, 2021
Spring Concert
March 2022
Pride Concert
June 2022
Outreach Calendar of Events

Sunshine Cathedral 50th Anniversary

Saturday, October 16 | 7:00pm
Sunshine Cathedral (map)

Let's Rejoice! Join the GMCSF as they sing and share in celebrating 50 years of the Sunshine Cathedral

Private Event - Performance by Tropical Wave

Sunday, October 24 | 4:30pm
Bonnet House Museum & Gardens

Private Event
Symphony of Lights

Saturday, November 13 | 6:00pm
Gulf Stream Park (map)

'Tis the season! The entertaining and festive Symphony in Lights is a free outdoor show that is fun for the entire family. The dynamic light display dances to holiday music sung by the GMCSF!
Annual Teddy Bear Drive

Friday, November 26 - December 19 | 10am - 6:00pm
Pride Center at Equality Park (map)

Now in our 7th year of giving teddy bears to give to the children's hospital.

World AIDS Day Candlelight Vigil

Wednesday, December 1 | 7:00pm
Haggen Park (map)

The City of Wilton Manors will once again join Broward House and the Pride Center at Equality Park to host the World AIDS Day Vigil and Remembrance Walk in honor of the 27th World Aids Day. We invite our friends and neighbors to join the GMCSF, as they sing at this annual event which pays tribute to those who have lost their lives to AIDS.


Wilton Manors Holiday Lighting Ceremony

Friday, December tbd | 6:00pm
Justin Flippen Park (map)

Kick off the holiday season with this free family event that features stories and musical performances representing a wide array of cultures. Along with the lighting of the holiday Menorah, Kinara, and Christmas Tree. There will be musical performances by the GMCSF, local artists, vendors, and lots of holiday cheer.
South Beach Jazz Festival

Friday, January 9 | 7:00pm
South Beach, Miami (map)

The South Beach Jazz Festival takes place in multiple venues throughout South Beach over three days in January. The mission of disability awareness is projected through a festival that takes pride in presenting world-renowned musicians who have disabilities from the entire spectrum of jazz including traditional, contemporary, and Latin American cutting edge acts.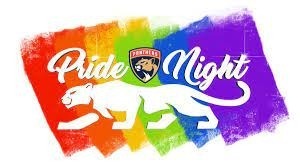 Panthers Pride Night

Friday, March tbd | 7:00pm
BB & T Center (map)

It's game day! Come out and support The Gay Men's Chorus of South Florida when they will be singing the National Anthem!

Florida AIDS Walk & Music Festival

Sunday, April 24 | 7:00pm
Fort Lauderdale Beach Park (map)

The Florida AIDS Walk & Music Festival is a great way to give back to your community. Come together for a 5K walk and an epic concert! There will be a breathtaking performance from the GMCSF.



Yom Hashoah Holocaust Remembrance Day

Wednesday, April 27 | 7:00pm
Temple Sinai (map)

This is a memorial day for those who died in the Shoah. The Shoah is also known as the Holocaust, from a Greek word meaning "sacrifice by fire." The GMCSF will sing to help ease he pain of this day.


Pride in the Park - Marlins vs. Mets

Wednesday, September 8 | 6:40pm
LoanDepot Park (map)

Play Ball! Join that GMCSF as they sing the National Anthem.